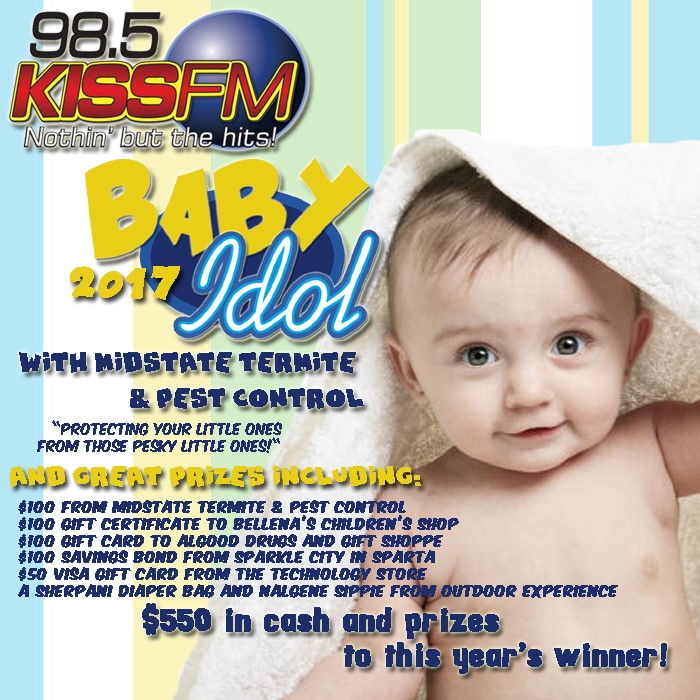 If you have the cutest kiddo in the Upper Cumberland, well then
we're looking for you! With 98.5 KISS F
M's
8th
Annual Baby Idol! With Mid State Termite and Pest Control! They're protecting your little ones from those pesky little ones! And presented this year with Bellena's Children's Shop, Outdoor Experience, Algood Drugs and Gift Shoppe, The Technology Store, and Sparkle City in Sparta! If your child is three or younger
(complete rules including whether your child qualifies and submission information below)
, you can submit their photo and required information
(details below)
through Saturday, May 27th! But don't forget, p
hoto submission deadline is Saturday, May 27th! And don't forget only one child per submission is allowed! If you are entering more than one child in your family for this year's Baby Idol, you will have to submit separate entry forms! Failure to include required information with online submission form
by email
will result in disqualification! Then get ready to vote your favo
rites into the finals on the 98.5 KISS F
M Facebook Pa
ge where they could be named 98.5
KISS F-M's
8th
Annual Baby Idol winner! And score
$550
in prizes this year! It's Baby Idol! With Mid State Termite and Pest Contr
ol! And it's on 98.5 KISS F
M!
To enter, email your submission to 985kissfmbabyidol@gmail.com and include "Baby Idol 2017" in subject line!
All entries MUST INCLUDE the following (failure to include any of this information will result in disqualification from this year's Baby Idol):
· Parent or guardian's full name
· Parent or guardian's phone number
· Parent or guardian's email address
· City of residence
· Baby's full name
· Baby's birthdate
REMEMBER: ONLY ONE BABY PER PICTURE PER SUBMISSION!
(failure to submit a photo that qualifies per the appropriate guidelines above will be disqualified from this year's Baby Idol)
You may submit multiple children, but they must be entered SEPARATELY.
Baby Idol 2017 Official Contest Rules
Zimmer Broadcasting/WKSW-98.5 KISS FM (the "Station") will conduct the Baby Idol Contest (the "Contest") for the chance to win one Grand Prize of gift cards/certificates valued at $550.
WHO CAN ENTER
1. Contest is open to those persons 18 and older, and who are legal US citizens or residents and reside in the state of Tennessee.
2. Employees of the Station, its parents, subsidiaries, contest sponsors, affiliated companies, advertising and promotion agencies, any other Upper Cumberland area radio stations and the immediate family and other household members (i.e., spouses, parents, grandparents, children, grandchildren, roommates, housemates, significant others, partners, and siblings) of each of the above are NOT eligible to enter and/or to win the Contest.
3. Persons who have won another major contest or maior promotion of any kind from the Station within 30 calendar days before the Contest are NOT eligible to enter and/or win the Contest.
HOW TO ENTER/WIN
1. No purchase necessary to enter or win the Contest. All federal, state, and local laws and restrictions apply.
2. To enter, from May 15 through May 27, visit kissfm985.com to email one (1) picture of your baby attached in a JPEG, GIF, or EPS format, along with your required information. Entries must be received by the Station to the kissfm985 address no later than Saturday, May 27, 2017 at 12:00am (midnight).
3. Each baby depicted in the pictures submitted must be three years of age or younger as of July 10, 2017 (the "Age Requirement") and the picture should be reasonably recent so that it depicts the baby's current appearance.
4. No more than one (1) entry per child will be accepted, and each entry must be made by one (1) parent or legal guardian of the child, both of whom must be eligible to win this Contest. Any picture received from a Contestant who is not the parent or legal guardian of the baby depicted therein will be disqualified. The child's parent or legal guardian may send in only one picture of their child. Multiple entries with different pictures of the same child will not be accepted as entries. If a parent has twins, the parent may send in an individual picture of each baby but not both. Furthermore, if the parent has multiple children that meet the Age Requirement and are eligible for the Contest, they may send in one (1) picture of each child separately. The baby in each entered picture must be clothed or otherwise covered.
5. Each person who enters a picture in the Contest is referred to herein as a "Contestant".
6. The Station will post contestants in various rounds at the stations discretion. Starting on Monday, May 29, 2017, the pictures of the contestants will be posted in rounds in no certain order on the 98.5 KISS FM Facebook site for voting. Each round will last one week with a certain number of contestants based on voting, moving on to the final round of voting where the winner will be selected. Listeners will then be able to vote for qualifiers online on the 98.5 KISS FM Facebook site for the "Baby Idols" by their designation of "Like" on photo status. No comments will be considered as votes. Listeners can vote for as many contestants each week as they want, but only count as one vote per contestant.
7. Upon being selected, each Finalist will be required to produce documentation (including but not limited to a birth certificate or court order appointing a legal guardian) establishing that (i) the Finalist Contestant is the parent or legal guardian of the baby depicted in the selected picture; (ii) the "Baby Idol" meets the Age Requirement; and that (iii) the baby and the parent or legal guardian are otherwise eligible to participate in the Contest under these Rules. In the event that the Finalist Contestants cannot or refuse to produce the requested documentation, such Finalist will be disqualified and a new Finalist could be selected, at the discretion of the Station.
8. The Station will announce the Grand Prize Winner on Monday, July 10, 2017 after 8am on-air on the Freak Show in the Morning on 98.5 KISS FM.
9. By submitting a picture to the Station, each Contestant authorizes the Station to post such picture to the Station's website at kissfm985.com and/or the 98.5 KISS FM Facebook page. Not all pictures will be posted to the Station's website.
PRIZES
1. Odds of qualifying depend on the total number of eligible entries received and the subjective response of the panel of listener judges; odds of winning the Grand Prize depend on the respective subjective responses of the website visitors voting on the entrants.
2. There will only be one Grand Prize Winner in this Contest. The prize will be gift cards/certificates valued at $550. Gift cards/certificates will be redeemable only at the store(s) and location(s) specified, and may be subject to other restrictions, such as the exclusion of certain goods or services.
3. The Grand Prize Winner must present a valid state issued picture ID in order to claim and receive their Prize.
4. The Grand Prize Winner is responsible for paying all applicable local, county, state, and federal taxes on such Grand Prize Winner's Prize. The Winner must claim the Grand Prize within 30 days of being awarded. In the event that the Grand Prize Winner fails to claim the Grand Prize within such 30-day period, such Winner shall forfeit the Grand Prize and no other Winner will be chosen.
OTHER RULES
1. The Station shall not be responsible for lost, late, illegible, misdirected or not received e-mail or for printing errors. Station is not responsible for any technical difficulties experienced due to overload, busy signals, loss of phone service, electronic problems, or any other factor that may prevent an individual from completing a phone call, sending an e-mail, accessing the Station website, or for any technical malfunction related to any telephone connection, servers, routers, or any other technical problem that may impact entry, participation, or prize claim.
2. All entries become the property of the Station and will not be acknowledged or returned. Entries that are determined by the Station to be fraudulent will be void and the person making such an entry barred from further participation in the Contest. Incomplete entries may be disqualified in Station's sole discretion.
3. By participating in the Contest, each Contestant consents to the Station and its affiliates, employees, agents, and all other related sponsors using for advertising and/or other promotional purposes, without additional compensation, each Contestant's and their baby's image, voice, and/or biographical information on radio or TV broadcasts, newspaper advertisements, and/or any other medium in connection with such Contestant's participation in the Contest.
4. Station accepts no responsibility of liability in connection with any injuries, losses, or damages of any kind caused by or resulting from the acceptance, possession and/or use of a Prize. In addition, the Winner will be required to sign a release form to collect their Prize. Failure or refusal to sign such release form will result in forfeiture of such Prize.
5. Station reserves the right to (a) terminate or declare the Contest null and void and rescind one or more of the Prizes, if in its sole judgment, the rules or the integrity of the Contest have been violated or compromised in any way, intentionally or unintentionally by any person whether or not a participant in the Contest; (b) alter or amend these Contest rules at any time; and (c) stop or conclude the Contest at any time without prior notice.
6. Station management shall be the sole arbiters in all matters relating to the Contest and the interpretation of these Contest rules. The decisions of the Station shall be final. Entry into the Contest constitutes agreement by Contestants to abide by these rules. Station reserves the right to disqualify or remove any entry at their sole discretion. If a Winner is found in violation of these rules or is otherwise disqualified by Station, in its sole judgment, then he/she may be required by Station to forfeit his/her Prize.
7. If a Prize is forfeited under these rules, then it will remain the property of the Station and a new winner of such Prize will not be selected.
8. A complete copy of the rules are available at the Station's studios at 698 South Willow Avenue, Cookeville, TN 38501 during normal business hours of 8:00am to 5:00pm, Monday through Friday (excluding holidays). Any person may request a copy of these rules by sending a self-addressed envelope to the Station at above address, attn.: WKSW Baby Idol Contest Rules Request.
9. The name of any Winner(s) will be available after Monday, July 10, 2017 at 9:00am by sending a self-addressed stamped envelope to the Station at the above address, attn.: WKSW Baby Idol Contest Winners List.